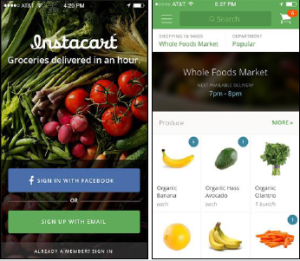 Amazon's strategy, with ever-shorter delivery options, has allowed a pure eCommerce player to gain a foothold in Local commerce and an increasingly bigger share of consumers' wallets. But while Amazon has always been and will remain retailers' top competitor in many product categories – especially in consumer products – some of these retailers could actually benefit from the company's growing fulfillment capabilities. Today, Amazon remains the clear leader in fulfillment, based on number of offerings, global fulfillment center footprint, and ability to manage demand elasticity through its digital assets.
Today, however, services such as Google Express, Postmates, or Instacart and new fulfillment models based on real-time driver networks such as Uber, Lyft, and Sidecar allow shoppers to order millions of products online and have them delivered the same day or even within the hour.
While Google is known as the world's leading search engine and one of the largest players in online advertising, the company's presence in eCommerce fulfillment should not be surprising – shopping is one of its key advertising verticals. Its same-day delivery service called Google Express is available in the San Francisco / Peninsula / San Jose metro area and in Manhattan, West Los Angeles, Chicago, Boston, and Washington, DC. The service allows a user to search for and purchase in-stock items from local retailers without leaving the Google page.


eBay has removed its eBay Now app from the iTunes and Google Play app stores. The service's desktop page is still live but media reports suggest that the company is rethinking its same-day delivery strategy, reportedly focusing on in-store pick up instead. eBay Now seems to be still available in Chicago, Dallas, parts of New York City (Manhattan, Brooklyn, Queens), and the San Francisco / Peninsula / San Jose metro area.
Instacart is a delivery service which focuses solely on same-day grocery deliveries. While orders are fulfilled from local stores such as Costco, Safeway, Trader Joe's, and Whole Foods Market, Instacart's product prices are different (slightly higher) from the prices at participating stores. Customers can select deliveries from 9:00am to midnight every day, depending on local store hours, or schedule a delivery for a later day or time.
Postmates runs a one-hour delivery service in the San Francisco Bay Area (San Francisco, East Bay, South Bay), New York City, Chicago, Los Angeles, Washington, DC, Seattle, Austin, Boston, Philadelphia, Miami, San Diego, Denver, Las Vegas, Orange County, Houston, Dallas, Portland, Phoenix, and Denver. Delivery fees, determined dynamically by an algorithm that accounts for the distance between pick-up and drop-off points, time required, effort involved, and how busy the platform is.
WunWun is another same-day delivery service available in San Francisco and New York City. It delivers from any local store or restaurant that accepts American Express or Visa credit cards. The service is available between 10:00am and 11:00pm but depends on local store / restaurant hours. While one-hour delivery is not guaranteed the vast majority of orders are completed faster than that.
Sidecar offers a same-day delivery service very similar to Deliv – it works with local retailers (instead of with shoppers) and relies on its large network of drivers for the actual deliveries. One of its launch partners is Eat24 – the food delivery service recently acquired by Yelp.
Uber, the biggest player in crowd-sourced transportation, has been running a courier service (called UberRUSH) in New York City since April 2014 and a $12/meal lunch service (dubbed uberFRESH) in Los Angeles since August 2014. However, its product delivery pilot (called uberESSENTIALS) in Washington, DC was shut down in January 2015 (after only 5 months)
Walmart already has the storage capacity and can ship directly from its stores (just over 4,500 in the US). Its delivery and pick up service, called Walmart Grocery, is available in San Jose, Phoenix, Denver, Bentonville, and
Huntsville. While pick-ups are free, the delivery fee varies by the time slot selected.
Target offers a same-day delivery service, Rush Delivery, to select areas. Nordstrom is another national retailer that offers same-day delivery in select markets. A same-day delivery option in Manhattan, NY has been available to Barnes & Noble.com shoppers since May 2000.
While everybody is testing services to restricted Metro and Cosmopolitan Areas, Amazon appears to be the clear market leader with various delivery options for shoppers from Manhattan to Boise, Idaho.