Posted by
Webmaster
on Feb 26, 2014 in
Reliance Jio Infocomm
|
Comments Off on How Reliance Jio intends to Deploy & Use 1800Mhz Spectrum ? Voice or 4G LTE ?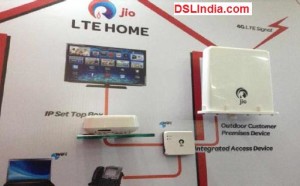 Reliance Jio Infocomm won 5-7MHz spectrum in 1800 band in 14 circles. These 14 circles account for 71%+ of industry revenues, and include all the metros and Category A circles.
Reliance Jio Infocomm in a press release said,
There are several mobile phones and devices available today which have the capability to operate both TD-LTE and FD-LTE technologies in 1800MHz and 2300MHz bands as well as conventional 2G / 3G networks. Rapid strides in global LTE rollouts and introduction of several new chipsets is making LTE enabled smart mobile phones and devices affordable. In any case, Wi-Fi enabled 2G/3G device can access RJIL's services through an affordable pocket router
The above statements largely hint at an FDD-LTE network on 1800 (though the references to LTE compatible 2G handsets add some confusion). In almost all circles, where RJIL has bought spectrum—it is a mix of one contiguous 5MHz block and some additional pieces of non-contiguous spectrum. Now LTE works on contiguous blocks of at least 1.25MHz spectrum, and these non-contiguous spectrum won by RJIL could be useless in an FDD-LTE strategy.

With this background, we list three possibilities for Reliance Jio Infocomm's network strategy
Reliance uses the 1800 spectrum now acquired to first launch 2G network + LTE on 2300, and the FDD-LTE on 1800 band is a long-term option.
Reliance uses 1800 for FDD-LTE and 2300 for TDD-LTE, and offers voice services using VoLTE. In this option, the non-contiguous spectrum gets wasted.
 RJIL uses 1800 for FDD-LTE and 2300 for TDD-LTE, and offers voice by tying up with an existing operator on 2G network. The non-contiguous spectrum can come in handy in a scenario where spectrum is trade-able/share-able.
What happens if Voice over LTE becomes a Reality ?
If RJIL intends to offer voice services, then the company will need to enter into interconnect/termination agreements with other operators. We expect the issue of termination rates to become the next battleground for the industry (probably even before RJIL launches).
Globally, and even in India, mobile networks are moving to IP-based platforms (core, backhaul)—recently, Vodafone India made a similar announcement. RJIL, being a new operator, starts with a completely IP-based network. Costs of running networks could be significantly lower on IP platforms as compared to traditional platforms.