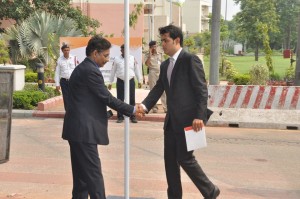 Akash Ambani led Reliance Jio Infocomm has always thought beyond pure play telecom services. Jio network has advance(d) features such as Software Defined Networking (SDN) and Network Functions Virtualisation (NFV). It is ready for future evolution of technology, including transition to 5G with minimal additional capital expenditure in the network. Jio has has filed 68 patents for the path-breaking innovatoins from its Navi Mumbai Campus.
Jio led the Massive 4G network investments due to data explosion triggered by rapid shift in consumer behaviour from voice to entertainment. Jio is focused on building a platform, with an all IP 4G network, digital services/content, FTTH and enterprise services being key pillars. It continues to incur capex in improving its already superior network. Jio's ubiquitous 4G coverage, network design allowing for >10GB / user / month data consumption, as a key pillar for success.
Jio's Winning Partnerships – Smart feature phones' (JioPhones) introduced by Reliance Retail in the market proved a game changer as they gave bottom of the pyramid users everal data-driven functionalities bundled into the devices. JioMusic's combination with Saavn, strategic investments in education tech (Embibe) and content (Eros). Jio said that its vision and ultimate goal is to become a full digital lifestyle solution provider to every Indian and create a meaningful socio-economic impact.
Akash wants to bring in clean corporate governance – Jio has a 14 member board comprising industry experts as independent directors, who attend board meetings. On the other hand, attendance of independent directors has been patchy for Airtel. Also, rotation of independent directors in 5 years is not observed.