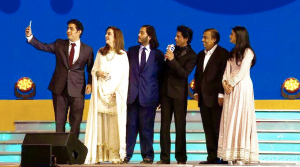 Immediately after the launch of Reliance Jio's Plans, we justified on how these plans are to just test the waters of incumbents A-Vo-Id Telecom Lobby led by Airtel. We listened to Reliance Chief Mukesh Ambani's AGM statement again where he mentions Jio is targeted to achieve high-teen returns (only generated by Airtel today). We thought for a while on how this can be achieved and it looks reasonably doable over the next 24 months.
Telecom Analysis today is all about Network Capacity Framework the findings of which seem to have been confirmed by Idea cellular the just in time execution master with recently.


Let us assume the subscriber base at this point would be ~250 mn (similar to Airtel), and corresponding ARPU at ~Rs200-210. The key advantage that plays out for Jio is the massive network capacity. RJio currently has 3x data network capacity of Airtel, & 6.5x that of Idea Cellular with very low utilization. Even if the network operating cost is controlled to be the same for Jio and the incumbents, the revenue base that can be supported by Jio's network is several times higher which has significant impact on how the other costs and overall margins/returns play out.
Assuming generous voice usage of 600 minutes per customer / month [Airtel's average is 414 Mins / Month] Jio's network should be able to support ~1.8 GB of monthly data usage for all of these 250 mn customers. Thus we can envisage an average Jio customer with ARPU of Rs200, having decent voice usage and 1.8 GB data. There is no Jio plan as of now that corresponds to this exact usage, we believe this leaves lot of room for Jio to cut tariffs further from what has been disclosed. Thus we conclude there will be a plan of Rs 200 with 2GB of 4G Mobile Data, Unlimited Voice which implies data rate of Rs 50 /GB which further coincides with what Mukesh Ambani has told.
Content Apps – Subscription Revenues
What we have not included in our estimate the non-mobile revenue opportunity for Jio (JioFi, Content Apps, FTTH, etc), and also no investment beyond the Rs1.5 tn target. Jio has unveiled a bundle of Content Apps to capture the entire digital experience of Indian consumer. Based on Eros Now App Paid subscriptions, we think Jio will have significant revenue from licensing content for its consumers.
Finally, we still reiterate it is a herculean task to stabilize a 4G LTE Network of Jio's scale and if team Jio succeeds in the same they should have around 200 Mn subscribers in the next 24 months [Not 250 Mn as assumed at the beginning of this research paper] and the revenue loss from 50 Mn subs can be easily offset by subscription revenues.