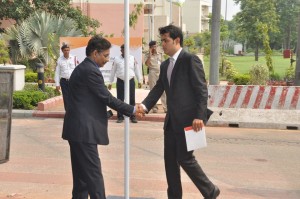 Reliance Jio Infocomm launch still looks to be a few months away. This has been the ongoing dilemma for the past few years now, and the uncertainty is not helping anyone. Management attributed this to a combination of some more testing to be fully-ready for all data applications, being able to integrate 800MHz, etc.
What is Akash Ambani's Mobile Broadband Strategy for 1 Billion Consumer Market ?
Jio is basing its approach on poor data speeds and low internet penetration in India, and expectation of high growth over the next 10 years in data traffic, especially video , as projected by various international industry players. Further, existing operators will be unable to scale up capacity to handle this and an all-IP and all-LTE network like that of Reliance Jio is the way forward. Jio will have the advantage of having an empty network when it starts off, but if it drops prices to low levels to increase network fill, it risks pulling down the revenue potential of the market.
Management is confident that the existing network infrastructure can support around 200 mn subs – the current base is 560,000 subs (employees, partners, vendors and associates) with average data usage of 18GB and voice minutes (VoLTE) of 250. We'll also write on how they should not go for a traditional launch through vendors / distributors and adopt an Out of the Box approach. Jio officials have a week to touch base with us if they want after which it will be in Public Domain 🙂
So far here is the list of Deals Mukesh Ambani & Akash Ambani have masterminded in the Indian Telecom space for Reliance Jio.
Reliance Jio may not have to cut prices to attract users – it can differentiate on better network experience. But again, this is theoretical, and until we have an official commercial launch and see how the take-up rates and competitive reactions are, it is hard to mount. Jio could reach 15% revenue market share, but that would be a stretch since it implies an even higher market share in urban areas (considering Jio's urban focus). Jio has been talking about advanced offerings such as VoLTE in a predominantly voice market. This makes the target of 15% market share challenging.
You may also be interested in reading Short Snippets on the Developments of 4G LTE in India.
Image Courtesy: Dr. Ashwini Kumar Sharma, Digital India Week, New Delhi