Posted by
Webmaster
on May 27, 2016 in
Web 2.0
|
Comments Off on Local eCommerce – Lessons for JustDial / Entrepreneurs from Baidu Local Express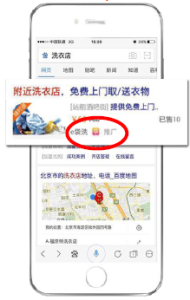 Chinese Internet Giant, Baidu has had Keyword based bidding on the lines of Google AdWords for sometime codenamed as Phoenix which Local service platforms still find the bidding system complicated. In October 2015, Baidu launched Local Express, a new simpler marketing platform for local merchants. Its key advantages include:
Ease of use of the marketing interface, without the hassles of choosing keyword price.
Geo-targeting to customers within 5-30 km from merchants, making the marketing campaign more effective
One-stop ad placement displaying across three key traffic platforms on Baidu: Baidu Mobile, Baidu Map, and Nuomi apps. In the past, Baidu search and Baidu Nuomi had separate marketing and services channels
Infrastructure support. Merchants can rely on Baidu Nuomi's landing page support, and do need to set up their own website.
Local Express currently targets eight local service sectors, including (1) cosmetics, nail polishing, manicure, and pedicure, (2) gym and yoga, (3) talent training, (4) electronics repair, (5) auto services, (6) photography, (7) moving and housekeeping services, and (8) plumbing services. These are also existing categories on Nuomi's platform. We note that restaurants, KTV, and tourism, are not included in Local Express' marketing programme.
How to Reach Consumers using Baidu Local Express ?
Mobile Baidu: Promotion is charged through the bidding system for each of the clicks. Merchants can choose: (1) the amount of money they would like to spend and (2) the timeframe during which they would like to put up the promotion. Merchants do not need to specify the cost per click. Ad placement (display frequency, ranking, and CPC) are determined by Baidu's own algorithm taking into consideration the service type, location, past click-through rates, popularity amongst users, and the like (similar to that of Phoenix Nest).


Baidu Map: Customers within 5-30 km would be able to identify the services through Baidu Map (Local Express merchants would get a "promotion" sticker; clicking on the link would redirect customers to the merchant's Nuomi page). Local Express merchants are not charged for putting up their links on Baidu Map at the moment. The search result is determined by an algorithm of distance, key words, and past reviews.
Baidu Nuomi apps: For discoveries through the Nuomi app, Nuomi typically charges a percentage of the transaction value (take rate varies depending on the category). Currently, if a consumer is directed from Mobile Baidu, Nuomi does not charge a take rate, given the merchant is charged by the click already (a merchant will not be
double-charged).
In Local Express, merchants can easily set up a promotion within ten steps, including product/services type, promotion content, location, specific services provided, and a daily promotion budget. Compared to Baidu Phoenix, merchants only need to set up a daily budget, instead of setting up a bidding price for the key word/category. This
simplifies the process for merchants, especially those who do not understand the bidding system well and how to set up a bidding price.
By end of March, Local Express had attracted over 200,000 new and existing customers to the platform (up from 100k in mid-Feb). Merchants can either register as a new user, or upgrade from their original Nuomi account. For new users, Baidu would provide tools and back-end support for them to set up Nuomi accounts and online stores.
As people's disposable income increases, the desire for services, such as dining out at a restaurant, watching movies, having house cleaning services, doing manicures, also increases at a steady pace. Since 2010, the O2O (online to offline) model took off, connecting internet and offline services. As such, consumers discover services and complete transactions online while consuming it offline. Hopefully, Indian Entrepreneurs will take a leaf out of Baidu's success story and deploy O2O service tailored to Indian market.