Posted by
Webmaster
on May 7, 2016 in
Technology
|
Comments Off on Just Dial Search Plus Monetisation Hit Hurdles, Omni ERP in Focus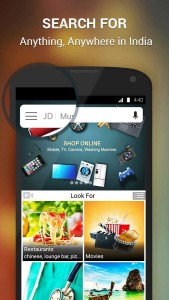 Just Dial's management has been talking about opportunities in "Search Plus" (hyperlocal transaction enablement) offerings for quite some time. Management has indicated difficulty in monetisation of Search Plus transactions. We also have concerns on monetisation of Search Plus, given the bandwidth necessary to manage a large number of offerings (over 25) and competition from several vertical specialist companies.
In the last couple of months, the focus seems to have shifted more towards its mini-ERP offering for small and medium sized merchants—JD Omni. JD Omni is synergistic in the sense that it targets the core classifieds business customer base (mid-to-small sized merchants) to a large extent. On the other hand, it represents a completely different business model for the company (a software product business vs the current listing services business). And the company's ability to cope with this different business model has yet to be tested.
While there are several products in the market that offer similar features of JD Omni ERP, there does not seem to be any single comparable product in the market that offers multiple features part of ERP (inventory management, billing, CRM, supply management etc.), verticalised solutions for different business segments, and integration with e-commerce platforms (relevant for product merchants). The product is priced at Rs2,000 monthly subscription (additional Rs20,000 for set-up cost). It also has an option of a one-time payment of Rs65,000.
Management looks upbeat about the JD Omni ERP with the initial signings (as per the management, the current runrate
is 100 sign-ups per day); however, we believe the execution will be very important in scaling up the business.