Posted by
Webmaster
on Nov 22, 2013 in
3G News / Data
|
Comments Off on What is SingTel's Group Digital Life About ?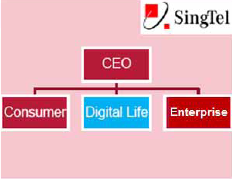 Asia Pacific Telecommunications giant which grew its business by investing substantial amount in companies like Airtel, Optus etc announced a new organization structure in March 2012 across product groups, rather than geographies, and also created a new business under Mr Allen Lew called Group Digital L!fe (GDL). Digital Life is one of the core Businesses Group.
This isn't a well understood business and there is generally a broader skepticism. Consumers now look to their mobile devices for immersive content, entertainment and commerce. Group Digital L!fe is positioned to capture these opportunities by developing services that create an amazing experience for every customer.
We are focused on building next generation growth engines and key digital solutions that deliver relevant, personalised and timely content and services. What we understand is that the underlying objectives of this business are to develop content, product and services and make investments that complement SingTel's existing telephony businesses, leverage its extensive regional scale (~480mn regional subs), and better monetize data.


As an established telco, the SingTel Group has distinctive assets and expertise in the mobile business, such as their customer base of 468 million across Asia and Africa, deep customer knowledge, extensive customer touch points and payment mechanisms. Group Digital L!fe's strategy is to pursue target areas in the digital space where assets give an advantage over the competition and where they can deliver better value propositions.
SingTel's Digital Life Investments
To date, SingTel has invested around SGD500mn in Digital L!fe. There are currently 33-35 investments in total across seven-eight countries across five focus areas: 1) global (mobile) advertising; 2) life-style (such as Hungry Go Where); 3) digital commerce platform; 4) social interaction platform; and 5) pay-TV platform.
There are many questions, such as what is Digital Life all about, why SGD2bn capex, will it ever make money, can incumbent telcos really make this work, etc. What Say ?